Shopping Cart
Your Cart is Empty
There was an error with PayPal
Click here to try again
Thank you for your business!
You should be receiving an order confirmation from Paypal shortly.
Exit Shopping Cart
We have been lucky enough to purchase a small amount of a naturally processed Geisha lot from Peru.
This coffee comes from the Coopchebi Co-op in Chanchamayo Peru.
Geisha was only in the last few years rediscovered growing in Peru, and grows abundantly in the Peruvian highlands.
This coffee is from a small lot growing above 1600 metres above sea level and has been processed as a natural, where the fruit is left to dry on the coffee seed. This imparts a very fruit forward characteristic to the coffee as well as a full body.
We have roasted this coffee to highlight the cherry and honey notes, as well as its smooth creamy body. It has a delicate citrus acidity and a lovely Jasmine aroma.

I like to brew this coffee for pourover with a 1:16.6 ratio with a brew time of 2:00-2:30
Water temp should be between 95c-97C and have a TDS of between 60-120 PPM.
We hope you enjoy this coffee as much as we do.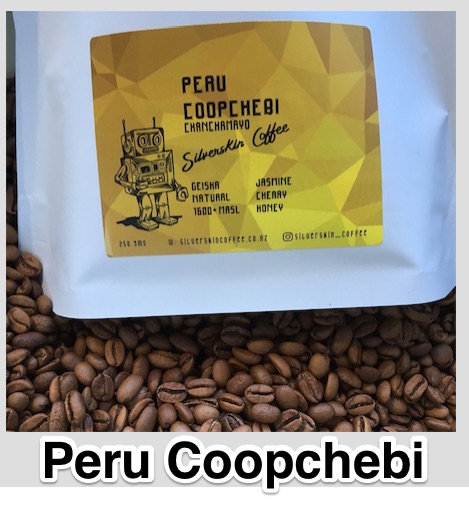 We have had such wonderful feedback regarding our Colombia La Cabana.
With natural processed coffee, sometimes the flavours can be a little too funky for some peoples tastes, but we've yet to find anybody who hasn't loved the La Cabana. It's a real fruit forward coffee, but it also has a wonderful acidity and silky body.
I'm looking forward to sharing this with my family over the Christmas holiday period, take care out there
/